Science in Sports Medicine
For:

PT, PTA, ATC, MD
---
This 4-week tutorial-based course is designed to improve participant's understanding and application of current best-evidence for basic science of injury and healing, involving neuromusculoskeletal tissues, as well as Sports Biomechanics including running gait cycle, throwing, golf, cycling, swimming, and jumping/landing biomechanics. Participants find and interpret evidence to guide clinical practice using case-based learning examples.
Course Objectives
By the end of the course, a successful learner will be able to:
• Demonstrate content knowledge in the foundational and clinical sciences related to structure, movement dysfunction, response to injury and disease, and promotion of health and wellness to enhance sports medicine outcomes for patients with soft tissue (ligament, tendon, cartilage and muscle) injuries.
• Demonstrate content knowledge of timelines for optimal rehabilitation of musculoskeletal injuries to include age related differences.
• Explain the inflammatory process of musculoskeletal injuries and the evidence basis of clinical management options.
• Establish a plan of care, incorporating evidence-based practice, for the management of musculoskeletal injuries.
• Synthesize data from a sport specific biomechanical examination and analyze the data to make clinical judgments to guide interventions and optimize patient/client outcomes.
• Understand risk factors for musculoskeletal injuries and apply this information to create injury prevention programs.
• Understand optimal imaging techniques for the evaluation and management of musculoskeletal injuries.
• Demonstrate content knowledge of soft tissue healing and incorporation (e.g. ligamentization, cartilage restoration procedures, etc.) following surgical intervention.
• Demonstrate content knowledge of proper evaluation and correction of mechanics related to overhead sports (throwing, volleyball, etc.), cycling, swimming, golf, running, jumping/landing to include gender and age-related considerations.
• Understand surgical and non-surgical options in the management of intra-articular injuries (e.g. articular cartilage, meniscus, labral and ligamentous).
Applicability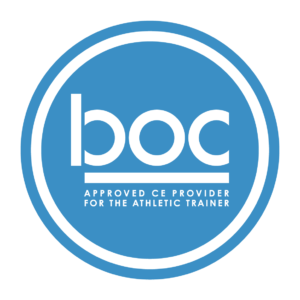 Evidence In Motion is a BOC approved provider of continuing education.