Introduction to the Tactical Athlete
For:

PT, PTA, ATC, CSCS
---
Course Description
This course will serve as a foundational introduction, or 20,000-foot view, to the world of the tactical athlete, focused rehabilitation and return to duty/injury screening. Each section will have certain "deep dives" into a topic area that serves to increase knowledge, exposure, and interest.
Objectives
By the end of the course, a successful learner will be able to:
Describe the composition and missions of the tactical athletes during a mock interview
Identify how external loads and working environments can elevate the risk of injury to the tactical athlete during a mock interview
Classify injured tactical athletes into the rehabilitation continuum using a patient case
Evaluate motor control deficits of the tactical athlete using a patient case
Integrate performance enhancement, exercise science, and Sympathetic Nervous System Suppression Training into the rehabilitation of the tactical athlete with a presentation
Recognize the potential long-term MSK risks of the career tactical athlete using a patient case
Integrate Return to Duty (RTD) testing into the tactical athlete's rehabilitation within the prescribed rehabilitation continuum using a patient case
Distinguish the different MSK and psychological deficits that can be identified with RTD testing using a patient case
Construct and interpret the results of an injury screening protocol for a tactical athlete population using sample data.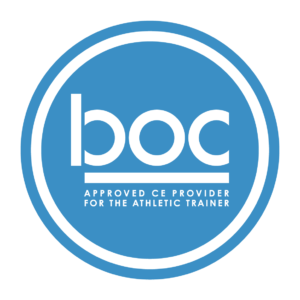 Evidence In Motion is a BOC approved provider of continuing education.