For:

PT, PTA, ATC, Student, Other
---
This course is designed for anyone who desires to improve their concussion management skills. A temporal approach is taken to the course, where we focus on pre-injury baseline testing, followed by acute sideline evaluation of a concussion. This is progressed to management of a concussion in the first 48-hours, and eventually the physical therapy office. Day two of the lab intensive focuses on various concussion trajectories their associated treatment paths. The lab finishes with return-to-sport, return-to-work, and return-to-learn discussions.
Course Objectives/Outcomes
Obtain a subjective history from patient and caregiver, screening all systems, environmental, and social scenarios that may impede clinical care and outcomes.
Demonstrate a comprehensive physical examination to diagnose and/or recognize concussion signs and symptoms in the pediatric to geriatric patient.
Demonstrate specific interventions to address specific concussion trajectories: ocular, vestibular, post-traumatic, cervical pain, cognitive-fatigue, anxiety/mood issues, etc.
Appreciate the interdisciplinary model necessary to appropriately care for the chronic post-concussive patient, and be able to identify which patients would benefit from referral to other health care providers.
Evaluate an athlete's readiness for return-to-play after a concussion.
Incorporate and analyze real-life patient stories for next-day clinical knowledge translation.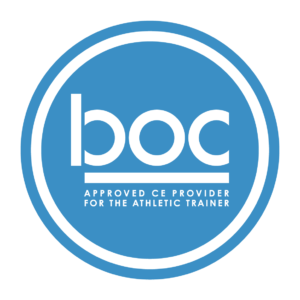 Evidence In Motion is a BOC approved provider of continuing education.
I went from never having treated a patient post-concussion to feeling like I had a solid understanding of what a concussion is and what it isn't, as well as what the emerging technologies/treatment philosophies are in order to feel confident going into concussion evaluation in the future. Course Graduate

I learned more than I expected to and walked away feeling more confident than I expected. The instructors approached the weekend with excitement and openness and created an environment where thoughtful discussion took place. There was extensive lab time to actually practice skills with helpful critiques from instructors and participants alike. Course Graduate