Therapeutic Neuroscience Education
For:

PT, OT, PTA, OTA, ATC, OTHER
---
This course is designed to update participants on the latest evidence and clinical application of Therapeutic Neuroscience Education (TNE) for patients in pain. Current best evidence has shown that neuroscience educational strategies utilizing neurobiology and neurophysiology are able to reduce pain, increase function, reduce fear and catastrophization, improve movement and change cognitions and brain activation during pain experiences. Therapeutic neuroscience education changes patient beliefs regarding their pain, thus reducing the threat of pain. This class will discuss the evolution of TNE, why neuroscience education is needed in physical therapy and, more importantly, the clinical application and implementation of TNE for patients with acute, sub-acute and chronic pain.
Course Objectives/Outcomes
By the end of this course, a successful learner will be able to:
Discuss the latest evidence for therapeutic neuroscience education.
Demonstrate the clinical ability to apply therapeutic neuroscience education to clinical practice with the use of at least one metaphor shared in class.
List at least half of the output systems discussed in class and their response in a chronic pain patient.
List potential strategies to implement therapeutic neuroscience into clinic practice regarding time, staff, billing and traditional therapeutic treatments.
Design a treatment plan for a chronic pain patient based on output system dysfunctions with correct pain neurophysiological reasoning behind the treatment with information provided in the course.

Evidence In Motion is an AOTA Approved Provider of continuing education. By taking an EIM continuing education course designed for OTs/OTAs you may qualify for AOTA CEUs. *The assignment of AOTA CEUs does not imply endorsement of specific course content, products, or clinical procedures by AOTA.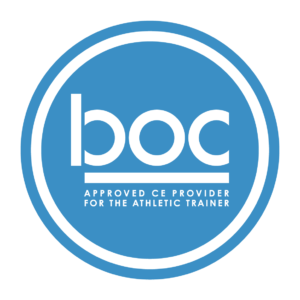 Evidence In Motion is a BOC approved provider of continuing education. This course is approved for 17 contact hours for ATCs.